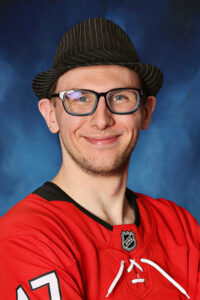 TRISTAN KLASSEN
Tristan has been involved both as a student and more recently as a teacher with the studio for over 20 years. He has taken Ballet, Celtic, Jazz (successfully completing exams), Hip Hop, Tap, Street, and Theatre.
Over the years, Tristan has been involved with numerous productions including playing such roles as "Jack Kelly" in Newsies, "Haman" in Esther: Queen of Persia, "Robertson Aye" in Mary Poppins, "Shrek" in Shrek the Musical, "Maxwell Smart" in Get Smart, "Rev. Moore" in Footloose, "Mr. Frank" in Diary of Anne Frank, "The Prince" in DanceWorks' Cinderella, "Maxmillion" in Count of Monte Cristo, "Nathan Detroit" in Guys and Dolls, "LeFou" in Beauty and the Beast, "Inspector Clouseau" in The Pink Panther Strikes Back, "Mr. Bingley" in Pride and Prejudice, "Algy" in The Importance of Being Earnest, amongst many others.
Tristan has also competed in Provincial competitions both in vocal as well as Track and Field, earning awards in vocal competition. He was a member of the Central Manitoba Youth Choir for several years.
In terms of dance, Tristan has performed both with DanceWorks in the 2014 Manitoba Winter Games, and with X-Company for the 2010 Manitoba Winter Games, as well as a cameo role with Ballet Jorgen when they toured to Winkler several years ago. Involved both with the Dynamix Troupe with DanceWorks and more recently the "Mo'mentum" Troupe of Wpg, Tristan is known to love dance and performance. He has been involved with the Teacher's Training Program and has been involved with assisting and teaching a number of classes in Morden as well as satellite workshops in Manitou, St. Claude, and Killarney. Tristan has won several festival awards for solo dance routines, has led two successful Artist in the School programs in Dance with the Manitou Elementary School, and more recently won an award with the DanceWorks "Dynamix" Dance Troupe.
Tristan has graduated with a Bachelor in Youth Ministry and is currently living in Morden with his wife Jessica, and working at the Access Credit Union.
Photo by Janet Haslam Photography