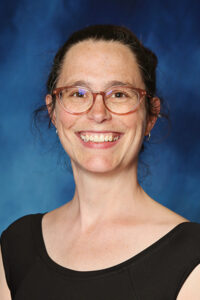 ERIN KLASSEN
B.F.A. / IDTS Certified
Erin has been part of the Candlewick and DanceWorks community for over a decade, working for several years in the capacity of Vocal Coach/Director for a number of musicals with both Candlewick Players and Prairie Spirit School Division. With a Bachelor of Fine Arts in Music (Voice) from Providence University College in Otterburne, MB, Musical Theatre is one of Erin's passions.
You may recognize Erin from various on-stage roles including Rosie (Bye Bye Birdie), Kala (Tarzan), and Audrey (Little Shop of Horrors), among many others. Along with her musical and theatrical training and experience, Erin has studied Ballet, Pointe, Jazz, and Tap and has recently completed her dance teacher certification through International Dance Teaching Standards.
Erin is passionate about Arts Education in all forms, and believes that every Human is also an Artist. She lives with her husband and children in Tinker Creek and is happy to be part of the team at DanceWorks.
Photo by Janet Haslam Photography