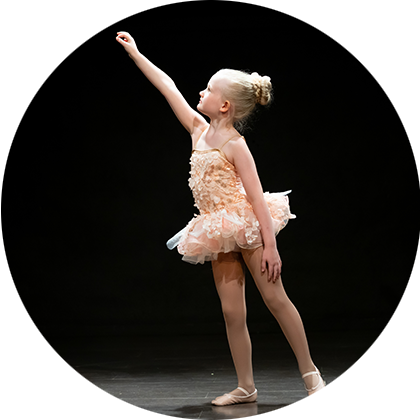 DanceWorks offers specific classes for children ages 3 to 5.
Dance Exploration (age 3)
Our Dance Exploration classes give 3-year old children the opportunity to move and explore. These "play-based" classes build basic motor-skills, coordination, and independence through imagination.
Tiny Dancers (age 4)
Four-year old dancers build on the skills learned in Dance Exploration in these Tiny Dancer classes. Focusing on creating spatial awareness and musicality, these classes introduce the dancer to the technique and structure of older dance classes.
Dance Foundation (age 5)
Our Foundation classes are for 5-year old dancers. DanceWorks has Ballet Foundation classes for those who are ballerinas at heart, or Dance Foundation classes for those who want a taste of Ballet, Jazz, and Hip Hop throughout the year. The Dance Foundation classes also allow for students to better determine which style they prefer.