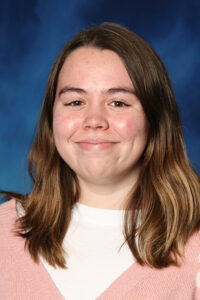 GRACE KETSMAN
Grace lives on a farm just outside of Swan Lake.  She started dancing with DanceWorks in Manitou at the age of 8.  It was 3 years later she started classes in Morden.  Grace loves Jazz and became a Teacher's assistant in 2019.  She has danced and acted in a number of plays with Candlewick Productions and DanceWorks.
Grace attends Prairie Mountain High School.  She is part of the Envirothon club and she is co-president of the Social Justice committee.
Grace is an upbeat teacher who enjoys helping young dancers find their passion for dance.  She is very excited to teach Dance Exploration and Tiny Dancers this year.
Grace has been with DanceWorks for a number of years and we have enjoyed seeing her mature as a dancer and seeing the passion she has for dance.  DanceWorks appreciates the fun and technical aspects she brings to her classes, challenging young dancers as they develop their motor skills needed to not only continue in dance but to enhance other areas of their life.